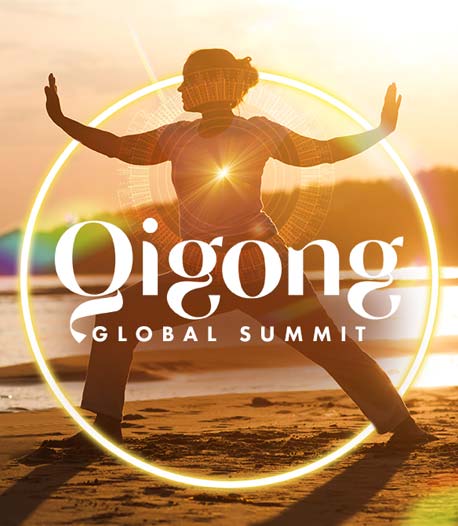 Program & Replays
Welcome!
The Qigong Global Summit is a 5-day event taking place May 24-28, 2021, online and on the phone.
Tens of thousands of people like you from around the globe are gathering together to discover how to clear stagnation in mind, body, and spirit, amplify their life force, and ensure emotional resilience through the practice of Qigong.
More than 35 of the world's foremost teachers — including rare appearances by masters who have never shared in an online summit before — will share deep insights and proven practices that will help put you on a powerful path to harmony and personal power.
You'll be in good hands with summit host Sharon Smith, a Qigong practitioner for 42 years, a Universal Healing Tao senior instructor, and the director of the Immortal Sisters Conference.
Enjoy this special summit!

Times shown are for this time zone:
05/24/2021 4:00:00 PM
05/24/2021 5:00:00 PM
05/24/2021 6:00:00 PM
05/24/2021 7:00:00 PM
05/24/2021 8:00:00 PM
05/24/2021 9:00:00 PM
05/24/2021 10:00:00 PM
05/25/2021 4:00:00 PM
05/25/2021 5:00:00 PM
05/25/2021 6:00:00 PM
05/25/2021 7:00:00 PM
05/25/2021 8:00:00 PM
05/25/2021 9:00:00 PM
05/25/2021 10:00:00 PM
05/26/2021 4:00:00 PM
05/26/2021 5:00:00 PM
05/26/2021 6:00:00 PM
05/26/2021 7:00:00 PM
05/26/2021 8:00:00 PM
05/26/2021 9:00:00 PM
05/26/2021 10:00:00 PM
05/27/2021 4:00:00 PM
05/27/2021 5:00:00 PM
05/27/2021 6:00:00 PM
05/27/2021 7:00:00 PM
05/27/2021 8:00:00 PM
05/27/2021 9:00:00 PM
05/27/2021 10:00:00 PM
05/28/2021 4:00:00 PM
05/28/2021 5:00:00 PM
05/28/2021 6:00:00 PM
05/28/2021 7:00:00 PM
05/28/2021 8:00:00 PM
05/28/2021 9:00:00 PM
05/28/2021 10:00:00 PM
Support